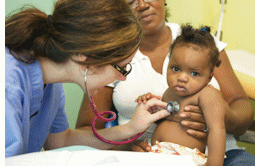 What is a Nurse Practitioner?
A Nurse Practitioner is an advanced practice nurse who has completed graduate-level education – either a Master's or a Doctoral degree. The following are additional Advance Practice Nurse roles:
Certified Registered Nurse Anesthetist (CRNA)
Certified Nurse Midwife (CNM)
Clinical Nurse Specialist (CNS)
All advanced practice nurses are Registered Nurses with additional education and training. To become licensed to practice, Nurse Practitioners hold national certification in an area of specialty (family, women's health, mental health, pediatrics, adult, acute care, etc.), and are licensed through state nursing boards rather than medical boards.
The core philosophy of the field is patient-centered care. Nurse practitioners focus on patients' conditions as well as the effects of illness on the lives of patients and their families. Nurse Practitioners diagnose, treat and prescribe medications for acute and chronic conditions.  NPs make prevention, wellness, and patient education priorities.