Legislative Bill 107: A Collaborative and Successful Journey
            The legislative committee is honored to announce, Governor Pete Ricketts signed into law Legislative Bill 107, March 5th, 2015.  LB 107 eliminates the career-long integrated practice agreement, making Nebraska the 20th State plus the District of Columbia to make such changes.
            We celebrate today with all those who supported the value of this legislation.  Over the coming months, many will be recognized by NNP for their contributions to this collaborative and remarkable journey.  On-behalf of the membership, the Executive and Governing committees of NNP, we extend a special thank-you to Senator Sue Crawford, Senator John Kuehn, Cora Schrader of Peetz and Company, Governor Ricketts and the 46 Senators who said, "Yes", to LB107!
             As President of NNP,  I would also like to acknowedge fellow members of the legislative committee: Tara Whitmire,  Terry Thomas, Kathy Hoebelheinrich, LeAnn Holmes, Julie Sundermeier, Kelley Hasenhauer, Cathy Phillips, Sharon Gossman, Ruby Houck, Kristy Eggers.  These NP's represent an example of the capacity of Nursing to affect the health and wellness of communities through systemic policy change. Thank-you not only for your dedication but for the way in which you have represented NNP, with highest degree of professionalism, dignity and respect.
    The work is not yet done... the legislative committee is working with the Board of Nursing, the Board of Health on the regulatory side of LB107, as well as those in leadership positions to make sure students and NP's have all that is needed to transition to Full Practice Authority. The bill will be enacted 90 days after the end of the current legislative session,  tentatively scheduled to adjourn on June 5, 2015.
Sincerely and with great excitement,
LaDonna Hart APRN-NPC
NNP President
This form stopped accepting submissions on February 19, 2015 12:00 am CST.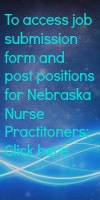 News & Announcements
Posted on 03/30/2015

Posted on 03/23/2015